Thank you to all who attended our 15 Year Anniversary Dinner on October 8th, 2022.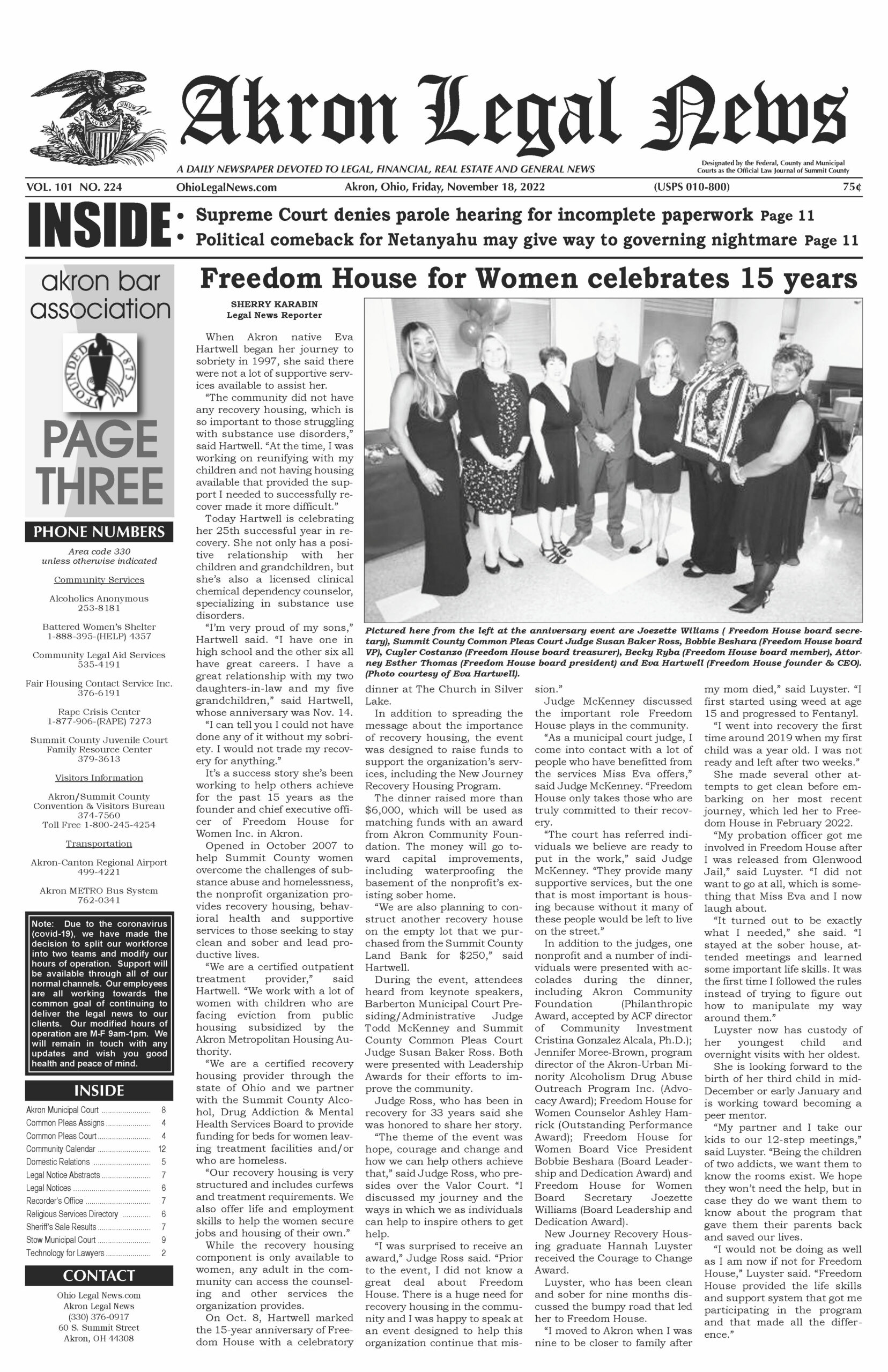 October 8th, 2022
The Church In Silver Lake
2951 Kent Road, Silver Lake OH 44224
Keynote Speaker: Judge Susan Baker Ross
Summit County Court Of Common Pleas
Judge Susan Baker Ross graduated from the University of Akron with a bachelor's degree in Management, and a minor in English. She completed law school at the University of Akron School of Law, earning a Juris Doctorate, and was admitted to the practice of law in the State of Ohio in November 1991.
Prior to her election to the Common Pleas Court, she served as a Magistrate with the Akron Municipal Court, as a Prosecutor in both Summit and Portage County Prosecutor's Offices, at the City of Akron Law Department, as a Mogadore Village Councilperson and in private law practice.
In November 2018, she was elected to a six-year term on the Court of Common Pleas. She currently serves on the Ohio Judicial Conference Criminal Law & Procedure and Civil Law & Procedure Committees, as well as the Judicial Advisory Group. Additionally, she is Co-Chair of the Lawyer's Assistance Committee of the Akron Bar Association, is a member of Leadership Akron Signature Class 35, ATHENA International, NAACP, Ohio State Bar Association, Akron Bar Association and the League of Women Voters.
She has previously volunteered as a member of the Alcohol Drug Addiction and Mental Health Services Board, Summit County Collaborative Against Human Trafficking, The Final Farewell Project Board, and the Women's Network Board. On a community level she served the Girl Scouts in a variety of positions for over 10 years and was a devoted volunteer in the Mogadore community on several boards and committees.
Judge Baker Ross is grateful to have celebrated 33 years of sobriety in July 2022. Having lived through some difficult circumstances in her lifetime, she is grateful that her experience, strength, and hope can benefit others.
Keynote Speaker: Judge Todd McKenny
Barberton Municipal Court
A life-long area resident, Barberton Municipal Court Judge Todd McKenney graduated from Manchester High School in 1982, Hiram College in 1986 and the Ohio State University College of Law in 1989.
Judge McKenney has served in the past as a New Franklin City Council member, State Representative for the 43rd District of Ohio and Judge of the Summit County Common Pleas Court in both Probate and General Divisions. He is now the Presiding and Administrative Judge of the Barberton Municipal Court where he was elected to a full 6-year term in November 2017. Judge McKenney is also responsible for the Barberton Municipal Court Drug Court program.
In addition to his past legal work, Judge McKenney is also an ordained pastor having served at The Chapel in Akron and Green.  Judge McKenney is currently serving as Senior Pastor of the Akron Chinese Christian Church.
Judge McKenney was President of the Magic City Kiwanis (2019-2020) and is also a member of the Barberton Rotary Club. He serves on the boards of Faithful Servants (free medical clinic), Mission USA Disaster Relief, Youth Excellence Performing Arts Workshop (YEPAW) for African-American Teen Leadership and is a member of the Akron Bar Association and Norton Historical Society. Judge McKenney received the 2013 Liberty Bell Award from the Akron Bar Association.
Judge McKenney has been married to his wife, Summit County Councilwoman Bethany McKenney, for 25 years and they have two children in college.  In 2021, Judge McKenney and Mrs. McKenney received a statewide award for being the Humanitarians of the Year from the Ohio District Kiwanis Chapters.